The QUOTES page is no longer available.
These quotes are now compiled into book form by Steve Dustcircle, the Evangelically Atheist editor, to celebrate EA's One-Year Anniversary.
You can ORDER the ebook now. It is also available in PAPERBACK from Amazon.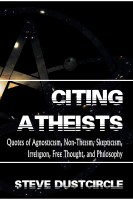 CITING ATHEISTS:
Quotes of Agnosticism, Non-Theism, Skepticism, Irreligion, Free Thought, and Philosophy
A comprehensive, condensed volume of quotes by atheists, agnostics, freethinkers, skeptics, philosophers, and even the spiritual.
Not exhaustive, but a great quick A-to-Z reference of quotes by atheists, freethinkers and philosophers–almost a greatest hits, if you will. Some quotes are very anti-theist in nature while others lean more political or non-religious. There are even a few appalling quotes by the religious. Coming from a religious background, the editor put these quotes together based on what helped him leave religion behind. Citing Atheists is a great book to add to any skeptic's library without the heavy cost of a huge, exhaustive volume.
ORDER HERE: https://stevedustcircleus.wordpress.com/citing-atheists/